Coolcore Strengthens Logistics and Sales Teams With New Hires
Coolcore® the global leader in chemical-free cooling material, today announced the expansion of its team to support the distribution, production and growth of its Dr. Cool Recovery-On-The-Go wraps™, Coolcore and existing partnerships. Mark Matheny was appointed director of global supply chain and will focus on all aspects of the Coolcore brand, including the Dr. Cool product line, its partnership with Mission Athletecare™ and future opportunities with its patented, chemical-free cooling fabric. Dan Ramella was named director of North American sales and will focus specifically on Dr. Cool. Both appointments are effective immediately.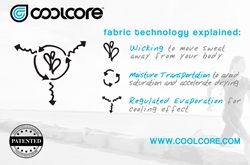 "With over 40 years of experience between them, Mark and Dan will be tremendous assets to our team," commented Kevin McCarthy, Coolcore president and CEO. "We are confident in their ability to add the right skill sets to our young business, while building the foundation for continued growth."
With proven expertise in sales planning, demand forecasting, merchandising, logistics, and inventory management, Matheny will manage customer service and logistics. His past work includes Swiss Masai US, LLC, where he served as the COO of US MBT® Footwear and at The Timberland Company®, where he was senior director of planning and operations for North American wholesale footwear.
Ramella is an experienced sales manager with more than 15 years in the industry. He has a strong retail background in apparel, footwear, eyewear, snowboard boots, accessories and sporting goods. Prior to joining Dr. Cool, Ramella worked at Freestyle® USA, Power Balance®, LLC and Oakley®.