Coolcore Cooling Fabric Innovation Triumphs Over Competition in the Hohenstein Testing
Coolcore, the global leader in chemical-free cooling fabrics, today announced the recent lab testing results from the Hohenstein Institute, the worldwide leader in textile testing since 1946. The Coolcore fabric continued to perform best among all currently available fabrics from leading sports and outdoor apparel brands for cooling power, drying time, and lack of saturation and clinging. Several fabrics were tested at Hohenstein's global headquarters in Boennigheim, Germany from 2012 through the end of 2013. The cooling fibers made by Coolcore are the first product worldwide to be awarded the Hohenstein Quality Label: 'Innovative Technology – Cooling Power.'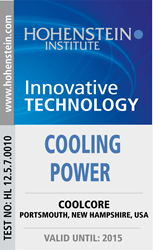 "Coolcore's material provides very high wicking and high sweat evaporation, especially impressive because no chemicals are used to create the wicking or cooling features," said Dr. Jan Beringer, head of research and development of the department for Function and Care at the Hohenstein Institute. "Our tests to date prove that Coolcore material is the best performing cooling material on the market today."
Coolcore's material delivers three distinct functions — wicking, moisture circulation and regulated evaporation, reducing the fabric's surface temperature up to 30 percent. In addition, it is the only chemical-free fabric where the cooling benefit never washes out. Coolcore fibers do not use latent heat storage or phase change materials that exploit a change in phase (solid-liquid) to absorb and store heat.
"As a material innovation company, validation through testing is incredibly important and we're very proud of these industry-leading results," said Coolcore President Kevin McCarthy. "All these tests utilized Hohenstein's proprietary cooling test system, the 'WATson,' which is taking the first steps toward industry standardization in measuring a fabric's ability to not only manage moisture, but also measure and quantify the cooling power of a fabric."
The patented Coolcore material innovation "powers" its own Dr. Cool Recovery-On-The-Go™ wraps, the first product to deliver on-the-go ice and compression in one flexible fabric wrap. Additionally, through its strategic distribution partnership with MISSION Athletecare, the Coolcore patented technology "powers" the MISSION EnduraCool line, which is sold across the US in over 5,000 retail locations and online at http://www.MISSIONathletecare.com.
"MISSION has had tremendous success at retail delivering superior cooling technology to active consumers," said Josh Shaw, CEO of MISSION Athletecare. "We know firsthand that overheating is a major issue that affects everyone – and through our partnership with Coolcore, we're able to deliver effective, portable and chemical-free cooling solutions that didn't exist before."
Click here for the official Hohenstein Institute Press Release!